Progress at Ncinci Ones
Margo Riley spent some time helping at the pre-school:
"Here is a pic of the shelves I made with bricks so if anyone asks what the
school needs the answer would be low shelving. It would also be wonderful if
they could get a CD Player, with a screen, that works on rechargeable
batteries as well as mains (if such a thing is exists) Of course they
really need a proper building, running water, a toilet and electricity but
no doubt that will come in time!"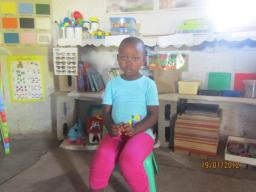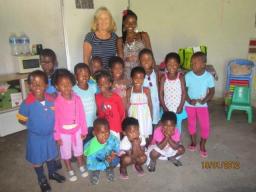 Margo with teacher, Miss Mbini, and 14 of the "little ones" - though now there are already 20!